Hinda Heals
One of the most critical and influential elements of the Hinda Reentry and Family Programs is our dedicated Casework and Counseling program.  This program is committed to providing support to one of the most under serviced, vulnerable, and stigmatized populations within the Jewish community. We are able to provide clients with the support they cannot get anywhere else. Whether that includes successfully finding them housing despite constant obstacles, securing health insurance and connecting them to medical care, getting them enrolled in education and training programs, successfully finding employment, or checking in every week, these services have made a monumental impact on our clients. We have expanded their ability to survive, thrive, and find acceptance and community. 
The Casework and Counseling program provides multidimensional support based  on individual client needs including: 
Weekly check-ins and emotional support

Finding housing post-incarceration

Agency-operated safe houses

Workforce training and education 

Employment search and support

Poverty relief through rent, utility, transportation, and food assistance 

Individual and family counseling 

Navigating probation, parole, and registry requirements

Securing public benefits such as Medicaid, Medicare, and SNAP

Referrals to medical and mental health providers 

Addiction and recovery support

Obtaining identification 

Technological literacy and access

Community reintegration support 

Psychosocial education 


 
Our Work in Numbers 
In 2022:
Learn more about our impact in our 2022 Annual Report.
Impact 
The Hinda Casework and Counseling Program has made a huge difference in the lives of our clients helping them to rebuild their lives for good.
Our miraculous recidivism rate is due to the dedicated and compassionate work of our caseworkers, counselors, and chaplains. Despite the many challenges that our clients face, the agency has been able to help them overcome many of these obstacles and feel supported in moving towards well-being and rebuilding their lives.
Our specialized programs have been effective in bringing hope, healing, and well-being to those  affected by the criminal justice system. Our 2022  survey findings clearly indicate the significant impact that the case management program and other agency services are providing for our clients: 
100% of clients report that our programs have been helpful in supporting them, 


 

97% of clients say that the services have had a positive impact on their well-being, and


 

90% report that the casework and counseling program has been extremely or very helpful for them. 
Our clients are feeling better about themselves (87%), less isolated (82%), and are more motivated to make positive changes in their lives (80%).
They are dealing more effectively with daily problems and post-incarceration related trauma, more connected to other people and their spirituality, and moving forward in rebuilding their lives.
Knowing that frequent challenges to the emotional well-being of individuals post-incarceration is low self-esteem, isolation, relationship instability, social isolation, and difficulties coping with trauma, it is encouraging to see that the majority of clients reported improved well-being in all of these areas as a result of receiving services. 
Staff
The Hinda Institute is uniquely positioned to provide targeted assistance to our client group in a way that few other organizations can. The case management and counseling program is supported by:
Four specialized caseworkers

Three chaplains

Eight peer support specialists

Legal advisory team assisted by a paralegal. 

Partnerships with three preferred clinical social workers who are experts in trauma for clients who have deeper psychological needs. 
When necessary, we refer out for services such as psychiatric assessment, detox and rehab programs, or intensive psychotherapy. 
Our staff is uniquely equipped to support our clients and their complex needs. Our casework staff includes qualified individuals who have a mix of professional expertise and lived experience that provides them with the tools and insight they need to best support our clients.
Their expertise includes navigating the registry, probation and parole compliance, employment and education, addiction counseling, family counseling, and mental health knowledge.
We identify our clients' primary needs and assign them to the caseworker who has the highest level of expertise in that area. 
Learn more about our team here:  Staff Bios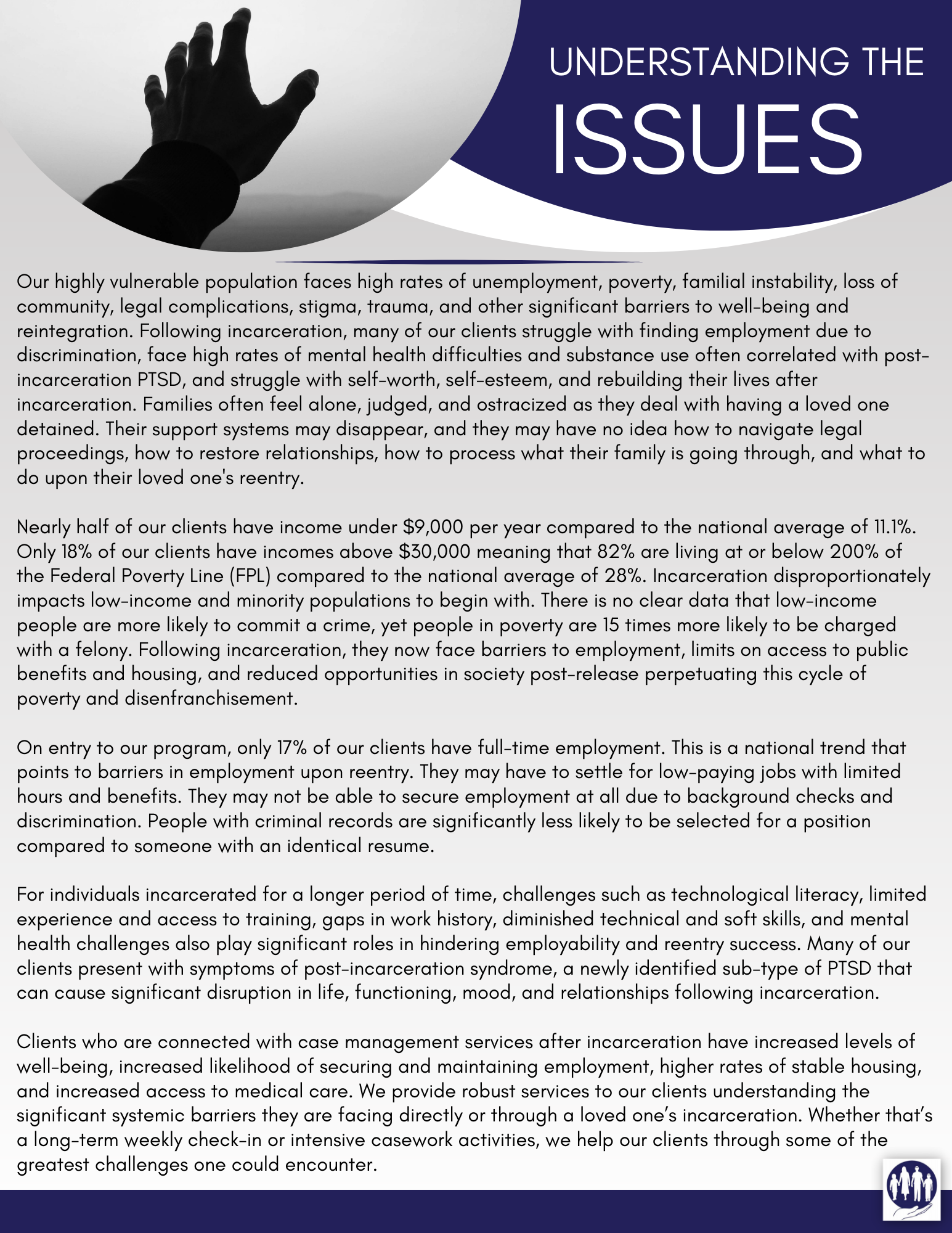 "Therefore man was created as a single individual, to teach you that anyone who destroys one Jewish life is considered by the Torah to have destroyed the entire world. And one who saves one Jewish life is considered by the Torah to have saved the entire world." - Sanhedrin 37a


At Hinda, we are saving worlds one person at a time. 
From Our Clients:
"There is no effective way to quantify the value of Hinda's support on the quality of my life. It is a powerful organization."

~~~~~   ~~~~~  ~~~~~

"Having my case manager has been so incredibly wonderful. She's truly been a blessing in my  life. I'm a better person for her counseling and mentoring."

~~~~~   ~~~~~  ~~~~~

"The emotional support alone has provided me with better coping strategies. They have really helped me make great progress in my personal healing."

~~~~~   ~~~~~  ~~~~~

"I was feeling very depressed, isolated, and anxious. Hinda's services helped me improve in all areas of my life. The amount of support I get is very valuable to my well-being. It saved my life."

~~~~~   ~~~~~  ~~~~~

"They are supportive and give a sense of community. It's like another family. They are people that care." 

~~~~~   ~~~~~  ~~~~~

"Their overwhelming concern, wanting the best for you, the commitment to help and be there, and the resources they offer are phenomenal."